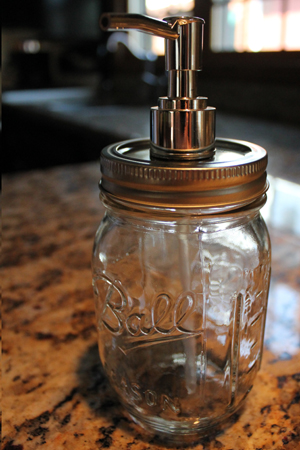 What you will need:
Ball Jar
Soap Pump (I bought a dollar store soap dispenser and just used the pump)
Glue (Some people use heavy duty dishwasher safe glue, I hot-glued mine)
Scissors, drill or xacto knife
Take the flat ball jar lid and draw a circle in the center where you want the pump to go through the diameter of the pump (you can eye-ball this). You have a choice now as to how you wish to cut the hole. I started mine with an xacto knife (really watch your fingers if you choose this option) and finished it off with scissors. Others have had success drilling a hole through the lid. Whichever way you choose to go about this, just use caution.
Once the hole has been cut, slide the soap pump through and center it on the lid in the direction you want it to face. Hold everything together with one hand while you glue around the base with the other. If you want things to be extra secure, you could place some glue around the top of the pump before sliding it through the hole as well. I found it easier to put a few dabs of glue around the base to help hold things in place so I could seal it all the way around with glue using both hands.
Once your glue is dry, just add your favorite soap to the jar, place the lid on top and twist on the band. Done!
I was able to get a pack of 12 Ball Jars for just 8.59 (with tax!) and the soap dispenser at the dollar store, so total cost was right around $1.81 for this cutie.  Not too bad considering these can cost upwards of $20 if you buy them premade.
Happy DIY!