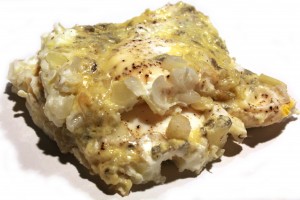 5 eggs
1 cup onions
1/2 cup blue cheese
Olive oil for cooking
Salt and pepper to taste
Alright, I know – this isn't paleo. I decided a few weeks ago to add a little dairy back into my diet and see what happens. So far I am doing ok with no problems, so that is a massively good thing being that I don't eat meat and can't eat gluten.
Heat your pan before adding olive oil and onions. Cook onions briefly until they start to turn transparent. Shape the onions into a square in the center of the pan. Crack 5 eggs directly on top of the onions and keep all the liquid tight to the onion square you created earlier. You could scramble the eggs if you prefer, but I thought they were more fun unscrambled. Space the eggs evenly over the onions and add salt and pepper to taste. Cover and cook the eggs thoroughly before adding the blue cheese on top. Cook the cheese just long enough for it to melt. Serves 4.
Caution: for those who are gluten free, make sure that the blue cheese you are using is indeed gluten free as some types aren't.