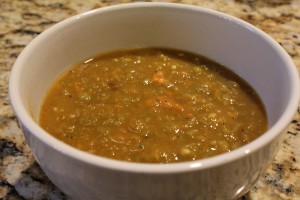 Ingredients:
8 cups water
2 cups dried split peas
2 onions, diced
2 stalks celery
1 sweet potato
1 clove garlic
1/4 cup green onions, diced
2 tbsp lemon juice
1 tbsp smoked paprika
salt and pepper to taste.
Place the onions, celery, garlic and green onions into a blender with just enough water to blend properly. Once completely smooth, place into a soup pot with 8 cups of water, the sweet potato, lemon juice, smoked paprika (mimics meat flavor found in traditional pea soup), and 2 cups of dry split peas. Simmer on low until the peas have completely cooked and begin to fall apart. Mash the sweet potato evenly into the soup. Add salt and pepper to taste. This is a wonderful, hearty soup, for a cold day.