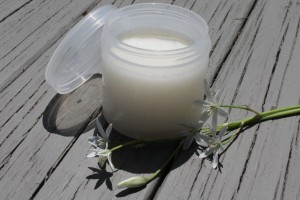 After trying store-bought all natural deodorants with no success, I decided to try my hand at a homemade version again. While I have been trying to eliminate anything un-natural from my diet and products, I must admit that shampoo and deodorant are two holdouts that I have had trouble replacing with any amount of satisfaction. The main issue concerning natural deodorants is this: most of them just don't work. If anything, in my experience they almost make you smell worse than if you skipped using deodorant altogether. I have had success making it on my own in the past, but I had issues with the idea of using an oil instead of a deodorant stick. Shouldn't be too bad of a transition in reality, it just needs to soak in before you put on your clothes (and I can be impatient), maybe this will force me to take the extra step and actually moisturize every day (mind races with lotion recipe possibilities)!
This recipe calls for just a few ingredients – coconut oil, lavender essential oil and rosemary essential oil. The best part of this recipe is that it actually works, and it works better than store bought deodorant in my opinion. You will need a sterile container to hold the mixture – a small jar would work best since in warm weather (or a warm bathroom) this would leak out of a traditional deodorant container. Mix 1/2 cup of coconut oil (in liquid state) with 20 drops of the lavender essential oil and 4 drops of rosemary essential oil. Pour into the jar and allow to set up. That's it!
Caution: Don't use essential oils if you are pregnant, have epilepsy, hypertension or any other medical issues. If this is the case, try using coconut oil by itself as a deodorant since it does have antimicrobial properties on its own. While essential oils are natural, they still have powerful properties we need to be mindful of. You should research each oil carefully for any potential side effects before putting it on your skin! Never put essential oils on the skin without diluting!