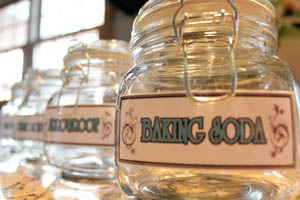 After learning to make my own homemade household cleaning products, I needed a better way to store and organize them.  I was lucky enough to find some spray bottles and swingtop sealed jars at the dollar store of all places (JACKPOT! I absolutely love the sealed jars!).
Now that we have all these containers, I wanted to label them so I would know what was inside each of them.  I like the idea of a clear label, but the kits to make them are rather costly. I thought about perhaps printing onto a transparency, but I didn't have any in the house. So, out of cheapness (and laziness) I decided to just print onto plain paper. If I get tired of the labels, I can always change them to something else at a later time.
Required Materials:
Printer With Ink and Printer Paper
Clear Packing Tape
Scissors
X-Acto Knife and Ruler (Optional)
I started by designing some labels on the computer – you can use any digital image software to do this. If you don't have one currently, Gimp is a good free program that can get the job done. I then arranged all the labels to fit on a single 8.5×11 sheet and printed them out.
Next I trimmed the labels with an xacto knife and ruler leaving a small white edge around the sides.  If you don't have an xacto, scissors will work if you have a steady hand.  Then I placed each label print side down onto a piece of clear packing tape and trimmed the excess with scissors.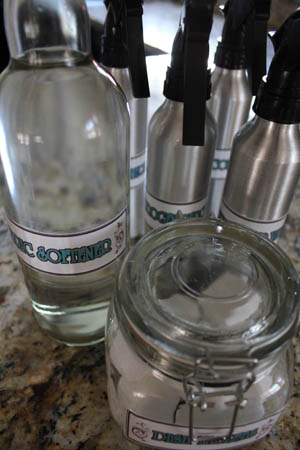 Finally, take your new label and place it onto your container starting in the center and working your way outward.  Be sure to smooth out any air bubbles.  One tip when working with containers that have irregular edges is to make the labels slightly smaller than the even surface.  This will ensure that they can be adhered smoothly.  As you can see, these cheap little labels don't look too shabby!
Total cost out of pocket if you already have everything on hand = $0, can't beat that!
While these won't be dishwasher safe, they are good enough to survive a hand washing if you are careful.