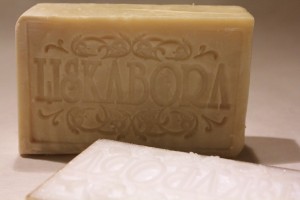 We decided to take the plunge and invest in a custom soap stamp to highlight our new line of products this year. I wanted to make sure the stamp would be here in time for our soap cutting day (leave it to me to get myself in a bind by making the decision to do this last minute – typical) and after receiving a lot of "sorry, we can't get it there that fast" type responses from manufacturer after manufacturer, we finally found Steve who was able to deliver this stamp in just 4 days (one of which was a post office holiday). Thank you Steve!
Our new line of soap, which we are making with organic coconut and olive oils, now has an extra touch to make it that much more special!
You can find Steve on Etsy at Etsy.com/shop/CustomMadeStuff – thanks again Steve for making the impossible possible!