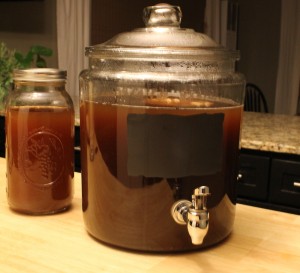 After the success of the first kombucha brew, I decided that it would make sense to brew the kombucha continuously. This basically means that you have a larger batch going in a container with a spigot so the drink can be removed without disturbing the scoby. I decided to use the Anchor Hocking 2 gallon Heritage Hill jar (mostly because I like how it looks). So far it is working quite well with no leaks and the plastic spigot won't react with the kombucha. I made sure to clean the container thoroughly and rinse the inside with a vinegar-water solution before adding the kombucha mix.
Ingredients for 2 gallon setup:
28 cups water
2 cups starter tea left over from last batch
2 cups sugar (I used coconut palm sugar)
16 tea bags (I used organic green tea)
Scoby
Be sure when adding the first batch of tea to your container, don't add hot water directly as it could cause the glass to break. You could add 10 or so cups of cold water or tea to the container first before adding the warmer tea to help ease the temperature change. Allow the tea to cool to a much more lukewarm temperature before adding your scoby as the hot water won't be good for the scoby either. When adding replacement liquid for later batches, make sure the sugar-tea mix has cooled to room temperature before pouring over the scoby.
While some people will continuously take the kombucha directly from the container at varying times throughout the fermentation process, I plan to remove what I intend to drink during the 2 week fermentation process and leave the rest in the jar. Even though I used palm sugar in place of white sugar, I still don't want to add any extra sugar into my system than necessary.
Visit http://www.culturesforhealth.com/kombucha-continuous-brewing-system for additional continuous kombucha brewing tips and recipes for other sized batches.