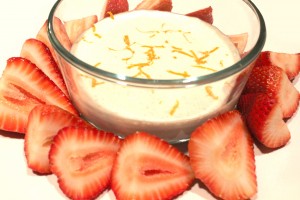 Coconut Milk – 1 can
1 orange
4 packets stevia
1 tbsp vanilla extract
Your choice of dipping fruit
Place your can of coconut milk in the freezer for a few minutes so the cream and water can separate. After it has cooled, remove only the cream portion and save the water for a smoothie later. Place the coconut cream in the blender along with the juice and zest from one orange, 4 packets of stevia (I like stevia in the raw) and 1 tbsp of vanilla extract. Blend until smooth and serve in a small dish along with fruit to dip. Top with additional orange zest just before serving. Tip: For a more firm dip, use colder coconut cream.
Gluten Free, Vegan/Vegetarian Friendly, and Delicious!