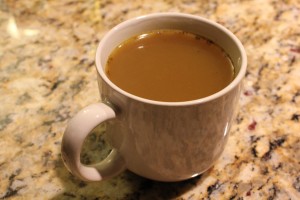 I must admit, this soup isn't exactly the most decadent recipe in my arsenal.   That being said, if I accidently eat something with gluten in it this is one of the things I usually make for myself to help me get back to normal more quickly.  I looked long and hard to figure out the most nutritious foods, with the most significant benefits so I could put them all into a single meal.  For those that are neither vegan nor vegetarian, you could also consider adding bone broth as I hear that is also very good for you.  Since I am vegetarian though, I have left that out of my recipe.
Ingredients (and why I use them):
Unfiltered Apple Cider Vinegar (lowers blood sugar, blood pressure and aids in weight loss)
Daikon (Good for digestion, diuretic, blood cleanser)
Watercress (Anti cancer, high in vitamins)
Dandelion (Detoxes liver, diuretic)
Cilantro (Antioxidant, antiseptic, quercitin, carminative)
Garlic (Detoxifier, antibiotic, anticancer, antifungal… acts as weak penicillin)
Turmeric (Anti cancer, liver detox, antiseptic, anti-inflammatory)
Fennel (Anti cancer, anti-gas, anti-inflammatory)
Mushrooms (Anti cancer, immune booster)
Spinach (Anti-cancer, antioxidant, anti-aging)
Diced Tomatoes (Antioxidant, decreases gall and kidney stones, anti-cancer)
Onion (Prevents atherosclerosis, balances colon bacteria, lowers triglycerides/cholesterol and blood pressure, anti-cancer)
Ginger (Decreases nausea, heals IBS, lowers blood pressure, boosts circulation, anti viral, anti-inflammatory)
Horseradish (Aids digestion, helps liver detoxify carcinogens, suppresses growth of tumors, antibiotic, antifungal)
Kale (Anti-cancer, good for eye health, plenty of vitamin k and calcium)
Artichoke (Anti-cancer, increases bile flow, good for liver, helps indigestion, stimulates good bacteria growth in intestines, increases good cholesterol, decreases bad cholesterol)
*I always make sure to use all organic ingredients of course!
Typically I will place all the ingredients for this soup into the blender and process until smooth before cooking so that things can be more easily digested and absorbed.  If I am really sick though, sometimes just the broth is all I can handle.  Either way, I love the way this soup makes me feel.
Disclaimer:  Once again, I am neither a doctor nor a nutritionist and nothing in this post is meant as medical advice. See your doctor if you are not well please. 🙂
Credit for the detox soup idea comes from Alicia Silverstone's book, The Kind Diet.