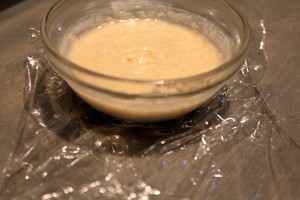 Ingredients:
6″ ace bandages
Plastic wrap
1 tbsp. Bentonite Clay
1 tbsp. Epsom Salt
1 tbsp. Shea Butter
1 tbsp. Olive Oil
1 tbsp. Witch Hazel
1 tbsp. Water (for dissolving Epsom)
6 drops Vitamin E
3 drops Lemon Essential Oil
3 drops Grapefruit Essential Oil
3 drops Cypress Essential Oil
3 drops Rosemary Essential Oil
Put the Epsom salt, water and witch hazel together in a small sauce pan and heat while mixing until the Epsom has completely dissolved. Add in the bentonite clay, shea butter and olive oil to this mixture and combine until smooth. Add three drops each of the lemon (contains d-Limonene which helps your body convert its fat to energy), grapefruit (also contains d-Limonene), cypress (improves circulation, helps with cellulite) and rosemary (improves circulation, helps with cellulite) essential oils and mix thoroughly.
Slather the finished mixture on the areas you would like to wrap and cover with the plastic wrap. Apply the ace bandages on top of the plastic wrap to keep everything in place and add some gentle (keep it gentle, don't over-do it) compression. I like using the ace bandages with the Velcro ends so I don't get stabbed by the hooks. The 6″ wide bandages work better for this application than the thinner ones. Leave on for about an hour, making sure to drink plenty of filtered water. Any left over mixture can be stored in the fridge for up to a week, or in the freezer for longer term storage.
Warning: Do not use these wraps if you are pregnant. Do not use on skin that may be exposed to sunlight as some of the essential oils may make you photosensitive after use. Do not use on broken skin. Make sure you test on a small area of skin prior to use to make sure you don't react badly to any of the ingredients.

Credit for the idea of making these at home goes to the folks at craftbits.com