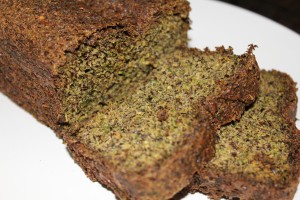 Ingredients:
4 cups organic arugula
2 cups organic roasted eggplant
2 cups organic ground flaxseed
1 cup organic spinach
1 large organic bell pepper
5 organic eggs
2 tbsp onion powder
1 tbsp minced garlic
1 tbsp finely chopped oregano
1 tbsp fresh thyme
1 tbsp baking powder
1 tbsp baking soda
1/4 tsp xanthan gum
Himalayan salt to taste
Olive oil or butter to coat loaf pans
Additional onion powder for topping
Place the arugula, spinach, eggplant, bell pepper and eggs into the food processor and blend until smooth. Add the onion powder, garlic, oregano, thyme, baking powder, baking soda, salt and xanthan gum, and pulse to incorporate evenly. Transfer to a bowl and mix with the flaxseed. Coat two loaf pans with olive oil or butter and line the bottom with parchment paper for an easier release. Pour even amounts of the batter into the two pans and place into a preheated 350 degree oven until completely cooked (toothpick test, browned crust on top and release from sides of pans). Allow to cool on a rack, slice and store in the refrigerator for up to a week or the freezer for a few months.