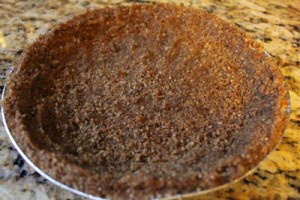 Ingredients:
10 oz Nuts (salted)
1 cup Stevia (or sugar)
1/4 cup Bob Mills GF Pancake Mix
1 tbsp cinnamon
1 stick butter
2 tbsp lemon juice
1 extra large egg
How to make gluten free pie crust.
Put all dry ingredients into food processor. Pulse until nuts are powdered and all ingredients are incorporated. Add the egg and lemon juice. Mix again until incorporated. Cut butter into cubes and mix into the dough. The butter does not need to be melted, we just want the cubes to be evenly distributed throughout.
Press dough onto cookie sheet to 1/4″ or so thick and place into 375 degree oven for 20 minutes or until brown.
Allow to cool and either crumble by hand, or give it another few pulses in the food processor until it reaches a crumbly/sandy consistency.
If you are placing into individual cupcake molds, this should make approximately 24 crusts (more if you prefer a thinner crust).  It works best by spooning the mixture into the molds until all are evenly filled.  You can then lightly push down by hand to flatten.
For full size pies, this will make approximately two 9 inch round crusts.  I just divided the mixture in half and put the unused portion in the freezer for later use.
Enjoy!