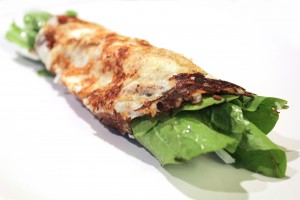 Ingredients:
1 cup mozzarella cheese
8 large dandelion leaves
2 tbsp. tomato paste
1/8 tsp garlic powder
pinch dried basil
salt and pepper to taste
1 tsp. psyllium (optional)
Preheat your pan and wash/dry your dandelion leaves. In a small bowl, mix together the tomato paste, garlic, basil, salt and pepper (you can use premade pizza sauce in its place as long as it doesn't contain sugar). Arrange a layer of mozzarella in a small tortilla sized circle in the center of your pan. Coat with the psyllium and flip once the bottom is golden. Add another layer of mozzarella and remove from the heat once the second side forms a golden crust. Transfer to a plate and top with the dandelion leaves and tomato sauce. Wrap the sides of your "tortilla" as usual and serve.
Tip: Drink a full glass of water if using psyllium in your recipe. This recipe is gluten free, grain free and almost carb free (there are a small amount of carbs in the tomato paste).