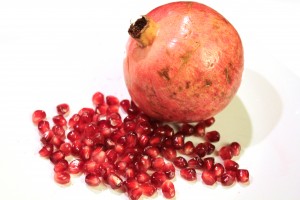 After starting the blood type diet, we had to take a look at some of the fruits that we eat. This forced us to try a few things that were out of our comfort zone, including pomegranates. We love pomegranates now.
Let me share with you how to open a pomegranate properly.
Score through the skin on the stem end, about 1″ down from the top, but don't cut all the way through the fruit. Lift the skin off and pull off the white membrane. Score perpendicularly down the sides from there separating the fruit into several segments and shake the seeds into a bowl. No need to beat the fruit with a spoon, no need for water. Just quick and easy. Enjoy!