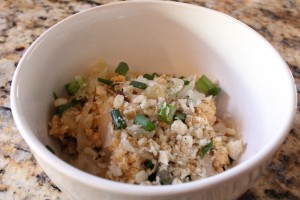 Ingredients:
2 cups rinsed sauerkraut 
(reserve 1/4 cup for garnish)
3/4 cup chopped green onion
(reserve 1/4 cup for garnish)
2 eggs (free range preferred)
Juice from 1 lime
4 tbsp olive oil
2 tbsp tahini
2 tbsp crushed brazil nuts
3/4-1 tbsp stevia (pure)
1 tbsp apple cider vinegar
1 tbsp gluten free soy sauce
1 tsp chopped garlic
.5 tsp red chili powder
Ok, so it isn't really Pad Thai… but it IS a healthier vegetarian, gluten free, and low carb (almost Paleo) Pad Thai inspired dish that just might take care of a few cravings. I have been craving this monster for weeks, so in my desperation I figured it out. I hope you like it as much as I did! This makes 2 bowls full, so you can share it with a friend.
Coat your frying pan or wok with olive oil. Add the green onion (reserve 1/4 cup to use later), tahini, apple cider vinegar, soy sauce, chili powder and garlic to the pan. Allow the garlic to fry for a minute or so before adding in the stevia (you can substitute an equal amount of palm sugar if you prefer.). Add 1 3/4 cups of rinsed, drained raw sauerkraut (see our Homemade Sauerkraut Recipe so you can make your own) and reserve 1/4 cup to add in raw at the end for a little crunch. Along with the sauerkraut, crack two eggs into the pan and mix lightly with the kraut so you allow pieces of both the egg and white to fry separately in the pan, breaking it up into chunks once it has started to cook. Cook thoroughly, sprinkling with the juice of one lime at the end. Plate and garnish with your reserved raw sauerkraut, chopped green onions and crushed brazil nuts before serving.
Note: make sure you use the GLUTEN FREE version of soy sauce, traditional soy sauce is not gluten free.