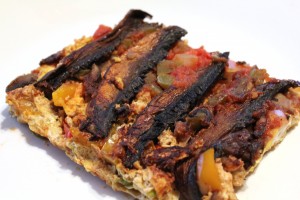 5 eggs, beaten
12 large portobello mushroom slices
1 package mixed mushrooms
1 red pepper, diced
1 yellow pepper, diced
1 green pepper, diced
1 tablespoon hot sauce (to taste)
Salt and pepper to taste
Organic pico de gallo salsa – optional
Olive oil for cooking
Rinse the peppers and mushrooms thoroughly. Coat a hot cast iron skillet with olive oil. First layer the Portobello mushrooms along the pan in even rows. Layer the other mushrooms around them evenly. Cook in place until the mushrooms become tender. Add diced peppers, hot sauce, salsa, salt and pepper. Cook for a few minutes until the peppers begin to soften. Add the eggs evenly over the mushrooms and peppers, season, and cover until the eggs have cooked. Cut into sections and serve upside down with the portobellos on top. Serves 4.