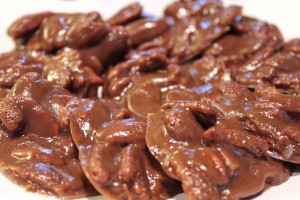 Ingredients:
2 cups palm sugar
1 1/2 cups pecans
1 can sweetened condensed milk
2 sticks butter
1 tsp vanilla extract
Melt the butter in a sauce pan over low heat, add the sweetened condensed milk, vanilla and sugar. Stir continuously until the sugar dissolves. Add the pecans and stir to evenly incorporate. Drop the pralines by teaspoonful onto a parchment lined baking sheet and allow to cool.