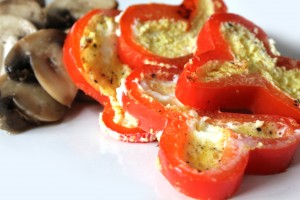 1 large red pepper
1 package mushrooms
4 large eggs (cage free preferred)
1 pinch salt
1 pinch black pepper
1 pinch garlic powder
olive oil (to coat pan)
Wash the red pepper and slice sideways into flower shaped pieces. Beat the eggs and season with salt, black pepper and garlic. Coat the frying pan with olive oil and fry the mushrooms first.  Once the mushrooms have been cooked to your liking (I like mine to still have a bit of crunch to them), remove them to a separate container and recoat the pan.
Wait for the olive oil to sizzle, and add the red pepper pieces to the bottom of the pan.  Carefully spoon in just enough egg to seal the bottom of each flower.  Once the peppers have a "bottom", you can fill them with egg to the top and place a lid over the pan until cooked through.
Once all of your red peppers have been filled, you can return some of the mushrooms to the pan to create a mushroom omelet with the left over egg, or you can refrigerate it for later.
Gluten Free, Dairy Free, Vegetarian
A perfect way to start the day!