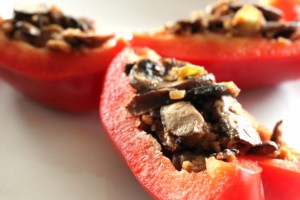 2 large organic red peppers
1 package mixed mushrooms
1 package shiitake mushrooms
1 cup cooked quinoa
1 cup organic pico de gallo salsa
Salt and pepper to taste
Wash the peppers and slice along their natural grooves to form cups. Remove any seeds (save and dry for your garden) and set aside. Place the mushrooms into a skillet coated with coconut or olive oil and cook well. Add in the quinoa and salsa and cook until warm. Mix all the stuffing ingredients well and stuff into the peppers. Serves 2.