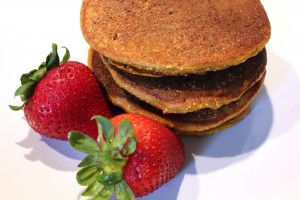 Ingredients:
1 lb butternut squash
3/4 cup gluten free flour
4 eggs
3 tbsp vanilla
1 tbsp honey
1 tbsp cinnamon
1 tbsp baking soda
1 tbsp baking powder
1/2 tsp salt
coconut oil for cooking
Optional: 2 tbsp amaranth
Puree the squash (pre-cooked) with all of the wet ingredients. Add the dry ingredients and mix well. Cook as you would for regular pancakes and enjoy!