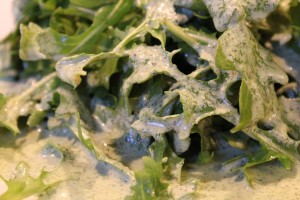 Ingredients:
1/2 cup vegan cheese spread
1/2 cup coconut milk
1/2 cup parsley
1/4 cup chopped green onions
1/4 cup lemon juice
2 tsp capers
1 tsp black pepper
salt to taste
First make the cheese spread using the recipe here: Vegan Cheese Spread Recipe and measure out 1/2 cup.  Place all ingredients into a food processor and blend until smooth. Serve over salad or vegetables. Leftovers may be stored in the freezer for later use.