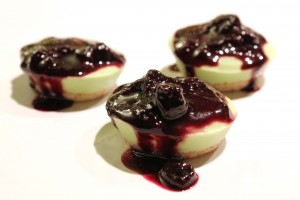 Ingredients:
Crust:
1/2 cup mixed nuts
Filling:
2 avocados
1/2 cup coconut cream
1/4 cup lime juice
1 tsp vanilla
2 packets stevia
Topping:
2 cups blueberries
2 packets stevia
Place a can of coconut milk in the refrigerator to allow the liquid and "cream" to separate. While the coconut milk is cooling, put 1/2 cup of mixed nuts into the food processor and process until they start to clump.  You can add an optional pinch of stevia to the nuts if you prefer a sweeter crust for your tarts.
Press the ground nuts into the bottom of each tart mold.
Place the meat from two medium sized avocadoes into the food processor with 1/4 cup of lime juice and 2 packets of stevia. Open the can of coconut milk and remove only the thick white "cream" from the top and set aside the liquid for use in a smoothie or other recipe later. Place the coconut "cream" into the food processor with the other ingredients and mix until smooth.
Pour the filling neatly into the tart molds and place into the freezer for a half hour or so to set them. After they have taken shape, you can unmold them and transfer them to the fridge.
To make the topping, place 2 cups of blueberries along with 2 packets of stevia into a small saucepan. Simmer until the berries have begun to break down and the sauce starts to thicken. Allow to cool before pouring over the tarts.
Credit for the idea of putting together avocados and coconut goes to the lady behind the Sweetly Raw blog: http://www.sweetlyraw.com/2012/03/greeeen-cheesecake.html