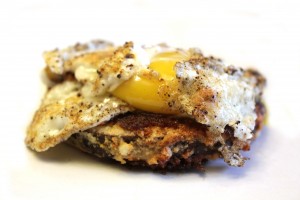 Ingredients:
1 eggplant
2 cups grated parmesan
5 eggs – for coating
2 eggs – for frying
garlic powder to taste
salt to taste
olive oil for frying (optional)
Preheat your pan or griddle, it must be hot or the cheese will stick. Slice the eggplant into 1/4″ or thinner slices. Crack five eggs into a bowl and beat. Put 2 cups of parmesan onto a plate and mix with the garlic powder. Dip each piece of eggplant into the egg mixture and dip into the parmesan cheese to coat on all sides. Fry on the griddle until the cheese coating turns golden brown and set aside.
I like to make the eggplant on a Sunday night so I can more quickly make these for lunch during the week. It stores fairly well uncovered in the fridge. I just crisp them up again when I make the eggs.
Fry the eggs sunny side up and salt to taste. Serve on top of one or two eggplant parmesan slices for a delicious gluten free and vegetarian version of steak and eggs. Enjoy!