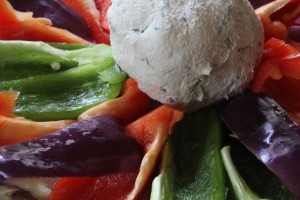 Ingredients:
3/4 cup organic goat cheese
finely chopped organic cilantro
finely chopped organic chives
2 tbsp. lime juice
1 dash hot sauce
Today we had the pleasure of enjoying our first harvest from our home garden. We had a few peppers, cilantro, and chives to enjoy. I decided to keep things simple and create a goat cheese dip with the herbs to use with raw sliced peppers. It is really quite simple, just wash and chop the herbs, and mix into the softened goat cheese with lime juice and a dash of your favorite hot sauce. For a thinner dip (ours pictured is more of a cheese ball consistency), you could mix in a few tablespoons of goat milk. This was dinner!