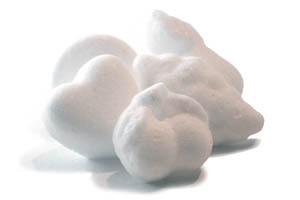 I've been on a mission lately to figure out how to make things myself using only natural ingredients. Commercial dishwashing detergent can be pretty expensive and honestly it hasn't been working that well for me. I'm pretty sure that I am not the only one tired of having to re-wash things like stained tea mugs by hand after they come out of the dishwasher. Not to mention the chemicals that might stick behind and end up in our food. No thank you!
I was able to find many homemade dishwashing detergents using borax, but I wanted to make something gentler using only natural ingredients. After a little bit of experimentation, here is what I came up with. I made this recipe for a small batch, it makes approx 8 tablets so you can try it out. Once you have tried it and want to make larger batches, just increase the amounts in the same proportions.
Ingredients:
30g (1/8 cup) of Citric Acid
1/2 cup Baking Soda
30g (1/8 cup) of Kosher Salt
Water in spray bottle
White Vinegar per directions
First put on some vinyl gloves to protect your hands, measure and mix all of the dry ingredients in a bowl.
Put some water in a spray bottle (makes this easier) and do a few sprays of the water into the bowl. Mix quickly to incorporate.
Continue to spray and mix until the mixture reaches the consistency of ever so slightly damp sand and holds together as shown. Don't over water or you risk losing some of the chemical reaction.
Quickly pack mixture into whatever molds you have. Ice cube trays will work just fine if you don't have any decorative molds to use. I am a craft-dork, so of course I have to use the pretty ones. It is important that you only fill the molds about 1/2 – 3/4 full in case you added too much water (they will expand if this happens).
Let the mixture sit undisturbed for a few hours so it can dry and harden. You can then unmold them and they are ready for use right away.
I usually put these dishwasher tablets in the cutlery compartment and add about 1/2 cup of white vinegar to a measuring cup placed in the center of the top rack. I also ditched the jet dry and put white vinegar into the rinse compartment as well.
If your dishes turn out cloudy (with an almost powdery substance on them) you probably have hard water. Try increasing the amount of citric acid to twice the original amount. If you have already made up your dishwashing tablets, instead of throwing them away and starting over just add the extra citric acid to the detergent compartment when starting the cycle. This is why I made up a small amount of tablets at first – gives us a chance to figure things out and get them perfect. Once perfected, they can be made in bulk! You can also add more vinegar for a spot-free rinse.
Store tablets in a dry place – ball jars and swingtop containers work great for this and look cute too!