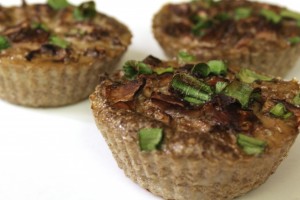 Ingredients:
5 eggs (cage free preferred)
1 package mixed mushrooms
Green Onions – chopped
Salt to taste
Pepper to taste
Preheat oven to 350 and wash the mushrooms and onions. Place the mushrooms into the food processor with the 5 eggs, add salt and pepper to your taste. Blend until smooth and pour into cupcake molds (silicone works great for this purpose). Top with chopped green onions. Bake in oven until eggs are fully cooked.
These can be made in bulk and frozen for busy mornings or a quick lunch. If you want a bit of "cheese" flavor to spice these up, try sprinkling nutritional yeast over the tops. Valentina hot sauce would be a great addition as well if you like a bit of heat.