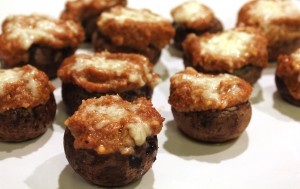 Ingredients:
*Baby Portobello Mushrooms
*Grated Parmesan Cheese (or Daiya)
*Grated Mozzarella (or Daiya)*Marinara Sauce
*Green Onions
(amounts to taste)
Preheat oven to 350. Clean the mushrooms and remove the stems.  Place caps upside down on a cookie sheet and add the stems to a blender with marinara sauce, green onions and parmesan cheese.  Blend and stuff mushroom caps with mixture.  Top stuffed mushrooms with grated mozzarella.
Place in oven until cheese is melted and golden.